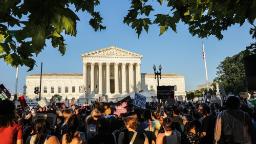 A bad election means
losing the Democratic majority
in the US House of Representatives, which his own party's strategists now consider virtually certain. A
Republican-controlled House
would roadblock his legislative agenda, investigate his administration and family, and perhaps even impeach him — notwithstanding the absence of legitimate cause.
The worst means losing the Senate, too. Returned to the job of majority leader,
Mitch McConnell
could deny Biden the ability to fill top administration jobs and judicial vacancies — including any potential vacancy on the Supreme Court.
Both outcomes will be shaped by the same atmospheric conditions, which for months have strongly favored the GOP. But fortunately for the beleaguered Biden, critical House and Senate contests sometimes move in different ways.
Voters know less about individual House members and their challengers. That leaves competitive House races largely at the mercy of a national mood soured by inflation worries and disappointment with Biden.
In a Senate now split 50-50, Republicans need a net gain of only one seat. But that won't come as easily.
More than House members, higher-profile senators and their challengers have some ability to create their own political weather. In competitive races, they invariably have plenty of cash for campaign advertising to burnish their own images and tar their opponents'.
A higher profile can magnify the assets of strong candidates and the liabilities of weak ones. Republicans worry most about the latter, having watched inept nominees blow several winnable Senate races when their party was in the minority in 2010 and 2012.
"I've never seen a map this good" for an embattled majority party, observed Amy Walter, editor of the nonpartisan Cook Political Report.
On that auspicious battlefield, Democrats have lately acquired fresh ammunition.
"Is the disappointment in Biden a more powerful force than fear of MAGA?" asked Simon Rosenberg, president of the New Democratic Network, a think tank. "I just don't know that's the case."
"It's not going to have nearly enough traction," said veteran GOP pollster Neil Newhouse.
A few intraparty dissidents remain uncertain. Mike Madrid, a California-based Republican consultant who worked to defeat Trump in 2020, sees the outcome turning on the relative magnitude of two opposing trends: the drift of suburban White women toward Democrats and blue-collar Hispanic men toward Republicans.
By cooperating with Democrats on gun safety legislation, McConnell told reporters last week, he hopes to reverse enough of those suburban defections. But "to believe that's a foregone conclusion," Madrid said, "is silly."