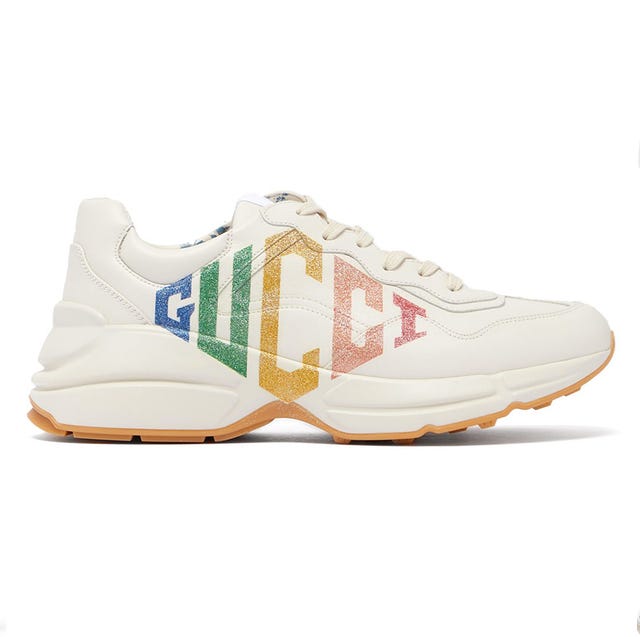 Courtesy of brands
Sneakers have always been touted as the comfortable alternative to painful stilettos and sandals, but not every sneaker feels like a walk in the park—or can last through one, for that matter. Then come a multitude of factors to consider: Are they breathable? Lightweight? Affordable? Last but certainly not least…are they cute?
Whether your go-to is a chunky designer shoe, a sustainably-made slip-on, or a streetwear classic, your feet deserve the very best. So, we compiled a list of just that—the most comfortable sneakers ever. Ahead, shop our favorites.
Advertisement – Continue Reading Below
The Stylish Standout
Air Max 270 React
Many Colorways
Ergonomically Engineered
A standout in the Nike family, the Air Max 270 is outfitted with a lightweight neoprene upper and an air bubble on the heel for an added pep in your step. Plus, it comes in an array of colors to fit every mood.
The Recycled Slip-On
Sand Slip On
Many Colorways
Office-Appropriate
Sustainably-Minded
Who knew recycling could literally feel so good? Crafted from repurposed water bottles, these comfortable Rothy's slip-ons are the cure to workday blues.
The Eco-Friendly Knit
Tree Runner
Many Colorways
Sustainably-Minded
Minimal Support
Not Office-Appropriate
If "tread lightly" were a shoe, it would be this one. Made with eucalyptus tree fiber treads, Allbirds's cult-favorite sneaker is basically a pillow for your feet.
The Everyday Staple
Sidewalk Low-Top Sneakers
Great Price Point
Always On-Trend
Madewell's Sidewalk sneaker is the perfect hybrid of style and comfort that can be worn with jeans or a dress.
The Conscious Keeper
Court Sneaker
Great Price Point
Sustainably-Minded
Always On-Trend
Office-Appropriate
Limited Colorways
Sells Out Quickly
Everlane's Court sneaker is its lowest impact style to date, created with less waste, less energy, and less virgin plastic.
The New Classic
Superstar Sneaker
Great Price Point
Many Colorways
Always On-Trend
Hip-hop made Superstars popular in the '80s, but the minimalist silhouette and soft interior has kept this style relevant for decades.
The Sneakerhead Original
Air Force 1
Many Colorways
Always On-Trend
May Take Time to Break In
Gets Dirty Easily
You'd be hard-pressed to find someone who doesn't own a pair of Air Force 1s. Whether you like them scruffy or creaseless, AF1s will never go out of style.
The Athlete's Go-To
NMD R1
Many Colorways
Ergonomically Engineered
Not Office-Appropriate
Gets Dirty Easily
These knitted, cushiony sneakers feel like you're walking on a bed of clouds.
The Feel-Good Pick
OCA Low Canvas
Great Price Point
Many Colorways
Sustainably-Minded
Ergonomically Engineered
Ethically made, consciously packaged, and comfortable as hell? Cariuma checks off all the boxes.
The Sock Silhouette
Logo Knit Sneakers
High Price Point
Sells Out Quickly
Choosing a designer sneaker is hard, so fall back on this versatile pick from Prada that pairs well with almost everything.
The Unisex Must-Have
Made in US 990 V5 Sneaker
High Price Point
Limited Colorways
Very rarely would you see a pair of New Balance's iconic sneakers outside the gym, but Instagram's It girls made it the shoe du jour.
The '90s Hero
Classic Harman Run Sneaker
Great Price Point
Many Colorways
Always On-Trend
Not Made for Narrow Feet
Gets Dirty Easily
A sneaker that is as cool today as it was in the '90s.
The Orthotic Option
Selah Slip On Sneaker
Great Price Point
Ergonomically Engineered
Office-Appropriate
You can never go wrong with a lightweight slip-on that features an exaggerated platform sole and fabric that contours your arches.
The A-List Approved Sneaker
Recife Triple-Grip Sneakers
Many Colorways
Sustainably-Minded
Office-Appropriate
Veja is the Meghan Markle-approved brand that proves sustainability is in.
The Retro Runner
Future Rider Play On Athletic Shoe
Great Price Point
Many Colorways
Always On-Trend
The Future Rider is the sister to Puma's '90s classic, the Fast Rider. The new model was designed with ultra-soft cushioning and currently comes in a bold color-block style.
The Chunky Statement Maker
Rhyton Leather Trainers
This Gucci sneaker melds the comfortability of a classic running sneak with chic designer flair to create a shoe that's worth every penny.
The Covetable Select
Original Achilles Sneaker
Many Colorways
Office-Appropriate
Common Projects's Achilles sneaker is so comfortable, you'll forget that it's made with a leather shoe. (Psst, you can remove the insole and replace it for added comfort.)
The Vintage Icon
High Top Sneaker
Great Price Point
Always On-Trend
Looks Good Dirty
May Take Time to Break In
Chucks are a closet staple that get more comfortable and better-looking with each wear.
The Designer Favorite
Raised-Sole Low-Top Leather Trainers
Many Colorways
Always On-Trend
Collector's Item
Taking the platform sneaker to higher ground, this cushioned sole won't make a peep as you strut down the street.
FAQ: What Makes a Shoe Comfortable?
Advice and Tips for Finding the Right Shoe
Fit: This might sound…obvious?…but a shoe needs to fit well in order to be comfortable. If you have wide feet, you probably won't like the way a narrow shoe feels. Mind-blowing stuff, we know. In terms of length, aim for size that allows for 5/8" (roughly the width of your thumb) between your longest toe and the tip of the shoe. If your feet are slightly different sizes—which is common and completely normal—size up rather than squeezing the bigger foot into a size that's too small. If you're shopping in-store, go at the end of the day (your feet are smaller in the morning, so the fit will be inaccurate) and wear or bring the type of socks you plan to wear with the shoes. (Thick socks require more space.) When determining whether a shoe fits well, make sure you can wiggle all your toes when wearing them. Your foot size and shape can change as you age, so consider getting your feet professionally sized before you repurchase those tried-and-true sneakers for the third time. And lastly, if you're banking on "breaking them in," beware that some shoes simply don't break in. If it feels uncomfortable during the first wear, it's very possible it will remain uncomfortable.
Cushioning: Put your hand inside the shoe and feel around. How does the insole feel? Is it soft and cushioned? Many modern shoe brands use memory or cooling foam in their insoles to maximize comfort, so don't settle for non-accommodating insoles. While you're at it, check for any interior seams, lining, or tags that might cause irritation on your feet by putting your hand inside the shoe to feel around.
Stability and Support: That pair of stilettos might feel comfortable when you first step into them, but a few hours of wobbling later and you'll feel the burn as your muscles and ligaments work extra hard to compensate for the shoe's instability. This doesn't just apply to heels, either. When considering any type of shoe, test it for good ankle support (no twists, rolls, or bone breaks here, please), a sturdy sole, and the proper type of arch support your feet require. If you have high arches, look for a shoe with greater arch support. If you have flat feet, a shoe with a high arch will feel uncomfortable. Finally, the shoe should fit well around the back, meaning your heel isn't slipping out or being rubbed with every step.
This content is created and maintained by a third party, and imported onto this page to help users provide their email addresses. You may be able to find more information about this and similar content at piano.io
Advertisement – Continue Reading Below