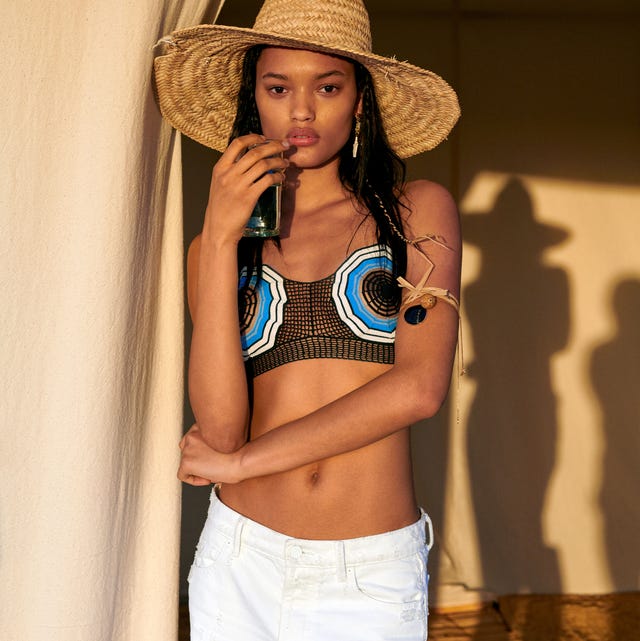 Azim Haidaryan
It's a triple win: fashionable, comfortable, and protective against the sun's damaging rays. When it comes to the summer season, there's simply no accessory better than a straw hat. The right woven topper goes with everything, but is never out of style. While not exactly a trend, a straw hat is the closet staple you never knew you needed, but will definitely want to snag ASAP. Buy it today, don it for decades of compliments to come. With these 25 carefully curated hats ranging in color, shape, style, and more, there's something for everyone.
Advertisement – Continue Reading Below
Striped Style
Jeanne Striped Straw Fedora
As the name suggests, you'll be serving '60s beach babe vibes in this striped style reminiscent of French screen siren Jeanne Moreau.
Best Pop of Color
Portofino Fringed Straw Panama Hat
Subtly amp up any outfit by accessorizing with this classic straw hat that has just the right dose of pink and green fringe.
Best Two-Tone Hat
Chevron Trim Straw Fedora
From preppy powerhouse Vineyard Vines comes this beautifully understated fedora that fits right in with the ever-trending coastal grandmother aesthetic.
Best Pattern
Mediterranean Pop Flores Geometricas Beach Hat
There's never a wrong time or place to wear this colorful hat that is 100 percent straw and 100 percent adorable.
Transitional Style
Mabel Straw Hat
This safari green hat is the transitional piece we all want and need. For all those sunny September afternoons, Gigi Burris has your back.
Best Scalloped Edges
Scalloped Dolce Hat
Blend right in with the seashells on the sea shore with this effortlessly chic hat from celeb-loved brand Lack of Color.
Best Wide-Brim Hat
Valentina Sun Hat
The sun has met its match with this woven wide-brim hat. Plus, the frayed edges make for a pretty cool shadow.
Celeb-Approved
Le Grand Chapeau Hat
Worn by the absolute coolest celebs (including Rihanna, EmRata, Ariana Grande, and Bella Hadid), this Jacquemus hat is a summer staple.
Best for the Beach
Roxy Tomboy Straw Sun Hat
From surf to sand and sidewalk, this classically cool hat is the perfect sun-safe addition to a weekend by the water.
Most Structured
The Cesca
With a beautiful structure reminiscent of '70s SoCal style, you'll never want to take off this neutral pick.
Best Beads
Ashlee Beaded Straw Panama Hat
At first glance, this hat is a classic straw one, but the addition of colorful beads is the perfect touch of je ne sais quoi.
Best Bucket
Women's Soft Paperbraid Multi-Way Bucket
What's better than one summer hat? Two iconic warm-weather styles rolled into one. The bucket hat design combined with a straw texture gives this hat all the summer vibes.
Great for Boating
Gigi Pip Seabreeze Straw Boater Hat
A slightly alternative take on the classic straw, this seagrass selection by Gigi Pip will look perfectly in place among your nautical surroundings.
Best Panama Hat
Wide Brim Panama Hat
Handmade in Ecuador, sport the classic panama cut in a variety of colors from stunning minimalist brand Cuyana.
Best Floral
Straw Daisy Print Bucket Hat
Ring around the…daisy? Bring the blooming florals of spring into summer with this delicate and breezy hat.
Best Fedora
Open Weave Straw Fedora
Available in two neutral colors, you'll have no problem incorporating this suave fedora into any outfit.
Most Practical
Wide-Brim Panama Hat with Cord
Keep your face properly shaded with this trendy J.Crew hat, which comes complete with a convenient neck cord to keep you from losing your lid.
Best Cowboy Hat
Adult Sun Straw Western Cowboy Hat
For a little extra "yee" to your "haw," this crochet cowboy hat is both cute and comfy.
Most Classic
Wyeth Fiona Straw Hat
Snap charming selfies that are extra grid-worthy in this delicate option from Madewell.
Most Packable
Arizona Packable Wide Brim Hat
For the woman on the go, Free People's foldable hat is just what you need to keep you safe in the sun.
Sometimes it's best to keep it simple, like this darling straw hat with a contrasting trim.
Flexible yet structured due to its crocheted nature, this minimalist hat by Janessa Leone is the only one you'll ever need.
Cutest Ribbon Sash
Mirabel Sun Hat
Simple yet sweet, this Eugenia Kim hat only gets cuter with the addition of an elegant bow.
Best Visor
Wide Brim Roll-Up Straw Sun Visor
Subvert basic trends in a new way by wearing a sleek visor instead of a sun hat. Just be sure to apply sunscreen on your hair's part to avoid a painful burn and unsightly peeling.
Designer Pick
Straw Hat with Tie
Wide brim, a gorgeous ribbon, and woven edges—what's not to love?
This content is created and maintained by a third party, and imported onto this page to help users provide their email addresses. You may be able to find more information about this and similar content at piano.io
Advertisement – Continue Reading Below