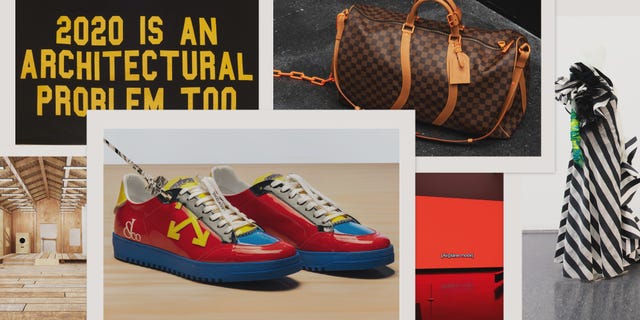 Social Sculpture: © Alaska Alaska, all others: © Gymnastics Art Institute;
Style Points is a weekly column about how fashion intersects with the wider world.
If you ask Antwaun Sargent, walking into Virgil Abloh's studio was like taking a trip into the many nautilus shell chambers of the late designer's multi-disciplinary brain. "Takashi Murakami was in one corner; Playboi Carti was in another," he recalls. Along with Harvard-trained architect Mahfuz Sultan and "20-year-old kids" from all over the world, "It was a motley crew," Sargent says, "and they all had equal stake and equal say."
Sargent is the curator of "Figures of Speech" at the Brooklyn Museum, which opens tomorrow, July 1, and his exhibit mirrors that polymathic, democratic approach, reminding viewers of all the worlds the late designer touched, from sports (Serena Williams' Off-White x Nike "Queen" tennis dress is suspended from the ceiling) to music (a test press plate of Jay-Z and Kanye West's Watch the Throne—the gold-foil cover was his brainchild; mixtapes and flyers for Abloh's many DJ sets) to design (collaborations with Ikea, Supreme and Nike, among many others). The reminders are even on Sargent's feet: Today, he's sporting Abloh-designed sneakers emblazoned with his name. "One of the great things about Virgil is that he worked across disciplines and mediums," he says. "You have art, you have architecture, you have music, you have film, you have design, you have fashion."
"Figures of Speech" debuted in 2019 at The Museum of Contemporary Art Chicago, curated by Michael Darling. When working with Abloh on plans for the revamped Brooklyn exhibit, Sargent paid close attention to the designer's speech patterns. "From one moment to the next he was talking about a dress, or about a sculpture. I go, 'Well, if that's the true way you create as an artist, then we define an exhibition format to showcase that.' And so what the thinking became was, 'Let's just put everything on a table,' because, often, that's what he worked on." The long tables that house the displays include one for drafting (Abloh was trained as an architect) as well as his other medium, the runway. They were a way to "really show the fluidity of his practice," as opposed to saying, "'Let's get all the fashion and put it in one room.' Because he didn't think that way."
That blurring of boundaries even crossed over to the holy line between art and commerce. The museum store, jokingly called Church & State and integrated into the exhibit, was part of Abloh's vision too. "Some of the [objects] you can buy and take home, and others are on display. But he didn't make a distinction," Sargent notes.
The curator's hope is that the exhibit can be an educational one, without the gatekeeping we so often see in both the art and fashion worlds. One aspect of Abloh's legacy the show touches on is his status as one of the few Black designers at the head of a European luxury brand. The pandemic and the racial reckoning both affected the way Abloh and Sargent approached the evolving exhibit, the latter says. "I think we all were shaken and changed in some ways [by both events], especially Black Americans. And that did not exclude Virgil." Sargent points to the gun motifs used in one of his Ikea projects, as well as a striking installation featuring 16 yellow crime scene evidence markers, a reference to the 16 shots a police officer fired at Chicago teenager Laquan McDonald. "Those two works are, in some ways, in response to realities of what young Black men have to deal with in America," Sargent says. "I didn't want to sugarcoat that."
Sargent has been telling everyone that the show is curated by WhatsApp, referring to the free-floating group conversations he had with Virgil and his collaborators that shaped its format: "The curator-artist relationship, as I define it, is one of dialogue. And so I didn't come to the show with any preconceived notions." Of all the artists he's worked with, Sargent says Abloh was remarkably not precious about his ideas. "He had no ego, and so the best ideas won out."
One of the prime expressions of that group dynamic is Social Sculpture, a piece of artwork that Sargent and I are sitting on as we speak. A wooden house with a porch, it was designed by Abloh in collaboration with his London studio ALASKA ALASKA to function as a haven for performances and events, and speaks to his penchant for inviting everyone in. "I don't know how many artists would make space for others in their major retrospective," Sargent marvels. "That's just not a thing that often happens, right?"
This content is created and maintained by a third party, and imported onto this page to help users provide their email addresses. You may be able to find more information about this and similar content at piano.io