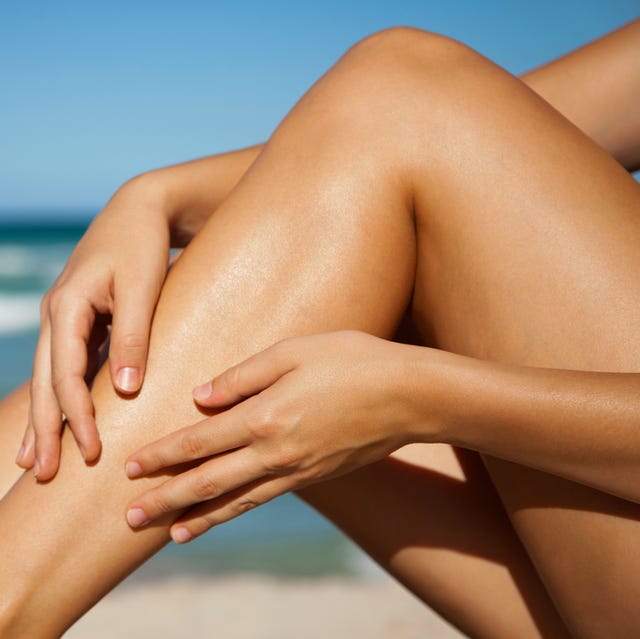 PhotoAlto/Antoine Arraou
With summer underway, you might be paying closer attention to the stretch marks on your body. If you have them, don't stress, they're normal and common for everyone. Essentially, stretch marks are scars that occur when the skin rapidly stretches or shrinks. You may experience stretch marks with pregnancy, rapid weight loss or gain, and puberty. Dr. Jaimie DeRosa, board-certified facial plastic surgeon and founder of DeRosa Center Plastic Surgery and Med Spa shares that "when the skin heals from this trauma, many people will develop stretch marks." Keep in mind whether you get stretch marks or not is largely up to genetics.
Since stretch marks are actually scars, DeRosa says a stretch mark cream is not going to completely remove them, but it may help prevent them as well as decrease their severity—especially when used early on. If you are inclined to reduce the appearance of your stretch marks, check out the 15 best products to reduce them.
Advertisement – Continue Reading Below
Best Overall
Skincare Oil
Minimizes appearance of scars
Changes appear quickly
May not be suited for sensitive skin
This product can be applied to your legs to minimize stretch marks, even if you've had them for a few years. The oil is packed with powerhouse ingredients like natural oils and vitamin A to hydrate skin, improve its appearance, and even out your skin tone.
Best for Elasticity
The Body Cream with TFC8® Moisturizer
Supports the skin's barrier
Hydrating
This intensely moisturizing body cream will reduce the appearance of cellulite, pigmentation and stretch marks. Its rich formula will nourish and support your skin's potential for renewal. Massage onto your legs and watch the magic happen overtime.
Best for Dehydrated Skin
Nessa's Body Saviour
May take a while to see results
Your stretch marks will thrive off this nourishing stretch mark butter. It's designed to prevent and reduce the appearance of stretch marks, as well as to soothe dry and dehydrated skin.
Best for Sensitive Skin
Body Partner Stretch Mark Cream
Clarins' thick stretch mark cream is formulated with plant-based ingredients to target stretch marks. Not only is the cream fragrance-free, but the texture is heavenly and melts right into the skin.
Best for Firmness
Advanced Stretch Mark Removal Cream
ML Manuela Lubin Delicate Beauty
Targets visible stretch marks
Product may not last long
This cream contains two ingredients that are helpful in minimizing stretch marks: hyaluronic acid and silicones. Combined with moisturizing actives, the formula will help smooth the feel of stretch marks. It penetrates deeply to repair uneven skin tone and restores texture for firmer skin.
Best for Texture
PRO Strength Stretch Mark Cream
Helps target the appearance of future stretch marks
This expert-level body cream will help visibly reduce the width, length, and density of marks on the skin. It's made with shea butter, cocoa butter, avocado oil, and ceramide NP, which all work to diminish the appearance of uneven tone and texture while moisturizing skin.
Pro-Approved
TransFORM Body Treatment
Hypoallergenic
Paraben free and cruelty free
DeRose says this Alastin body treatment is one of her top picks. She shares that "its triHex Technology helps tone the skin and increase the production of collagen and elastin." The product hydrates the skin from the inside out with key botanicals to support the production of hyaluronic acid and glycosaminoglycans.
Best for KP
KP Smoothing Body Lotion with 10% AHA
Bad smell
Doesn't last long
Dr. Libby recommends First Aid Beauty KP Lotion for decreasing stretch marks on your arms. It's a smoothing, multitasking body lotion that will moisturize your skin while slowly eliminating the appearance of any bumps, stretch marks, and imperfections.
Best Affordable Option
Ultra Healing Lotion
Long lasting effect
Non-greasy formula
With an unbeatable formulation of glycerin, oat, and shea butter, this lotion will boost skin hydration and keep it plump to ensure stretch marks stay at bay.
Best for All Skin Types
Stretchmark Minimizing Cream
Non-greasy
Moisturizes skin
Formulated with avocado oil, this Belli's cream will work to decrease the appearance of existing stretch marks regardless of age. Applying the product two times a day for four weeks may help you see the results you're looking for.
Best for Mamas
Mama Bee Belly Butter
Made from natural ingredients
Lightweight
Perfect for expecting mothers, Burt's Bees Belly Butter leaves your growing stomach soft and nourished. The shea butter and vitamin e-filled product help to reveal supple skin as you're recovering after birth.
Best for Swelling
Stretch Marks Therapy
Reduces discoloration
Hydrates the skin
This thick cream can easily be massaged into your skin and brings together hyaluronic acid, centella asiatica, and cepalin botanical extract, which is a proprietary onion extract that reduces swelling and inflammation naturally.
Best for Gentle Exfoliation
Retinol Skin-Smoothing Body Treatment
Firming, visibly smooth skin
For skin that is noticeably smoother, DeRosa suggests using this fragrance-free lotion from Paula's Choice that hydrates, enhances texture, fights discoloration, and restores resilience. Plus, it's made with retinol, shea butter, and evening primrose oil to reveal healthier-looking skin.
Cult-Favorite
Cocoa Butter Formula Massage Lotion
Affordable price
Hydrating
Stronger scent if you're sensitive
Palmer's lotion is a cult-classic product, and for good reason. The lotion is rich in hydrating ingredients that absorb well into your skin. Key ingredients include argan oil, shea butter, and cocoa butter.
Best for Smoothness
Body Butter
Renews skin at the cellular level
Formulated with a combination of shea and cocoa butter, this velvety soft product is designed to moisturize and deeply nourish the skin. It contains ingredients such as alpine rose stem cells, rosehip, and argan oils, which help soften and smooth the skin.
What should you look for when buying stretch mark creams?
The reality is that there is no magical product that will completely erase your stretch marks. Board-certified dermatologist Tiffany Libby, M.D. shares that you should look for products with ingredients like hyaluronic acid, Centella asiatica, and retinol/retinoids. The key is to find a product with ingredients that will add moisture, increase hydration and support the development of new healthy collagen and elastin in your skin. Some of those ingredients are cocoa butter, shea butter, and coconut oil.
When should you expect to see results?
Most of the time, you'll begin noticing subtle changes, but around the six-month mark is when you will really see results. Once you begin seeing results, ensure you keep up with consistent use of the cream of your choice to continue seeing your stretch marks decrease.
What do results look like?
Since stretch marks may not be able to fully go away, the creams shared will simply help decrease the appearance of your stretch marks, not erase them. After using your stretch mark cream over a period of time (six to 12 months), you may begin noticing that your skin will feel more moisturized and your stretch marks may start fading in appearance. But, a little patience and consistency are required in order to really see your desired results.
This content is created and maintained by a third party, and imported onto this page to help users provide their email addresses. You may be able to find more information about this and similar content at piano.io
Advertisement – Continue Reading Below