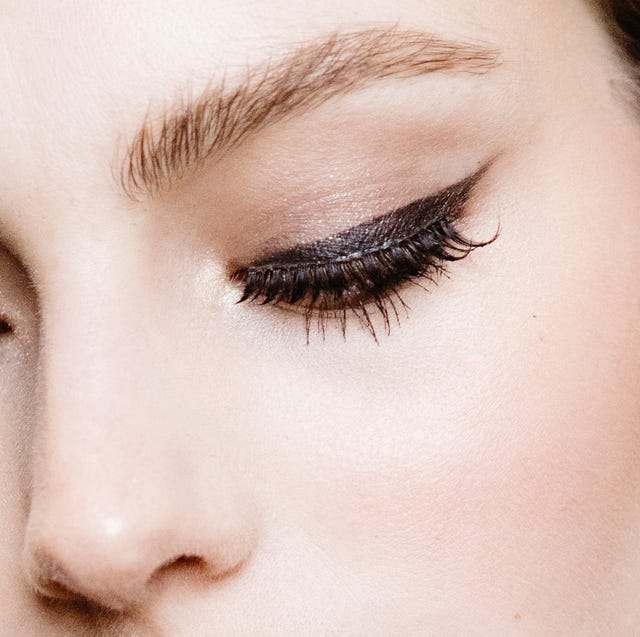 Rosdiana CiaravoloGetty Images
A great eyeliner is a staple in most beauty routines. You want to add a hint of definition by the lash line? Are trying finally perfect your winged-liner technique? Or maybe you're channeling the rockstar-girlfriend smokey eye. For all these looks, an eyeliner is key. And since this is a product that you'll use often and potentially run through quickly, why spend a ton of money on one, when there are several drugstore options that are just as good–if not better–than pricier choices? Here, find the 12 best drugstore eyeliners that won't budge, smudge, or break the bank.
Advertisement – Continue Reading Below
Best For Smokey Eyes
TattooStudio Eyeliner Pencil
For the best smokey look, this liner can be used it the lash line, between the lashes, and blended out in the lower waterline–all without smudging. Pro tip: have makeup wipes handy to clean up the edges.
Best For The Waterline
So Fierce Vinyl Eyeliner
For that rocker-chic, lived-in look, this liner can achieve that hazy, smudgy eye. It can be used in the waterline and on the lids. When first applied, you can smudge it up. After it sets, you won't have to worry about any smudging.
Best For Intense Pigment
Infallible Eye Silkissime Eyeliner
For a true black eyeliner, look no further. This eyeliner is great for those smokey, sexy eye looks. It's buttery soft, blends like a dream, and packs on the pigment.
Best For Lash Health
Eye Booster Lash 2-in-1 Boosting Eyeliner & Serum
Part liner, part lash serum, this affordable liquid liner is a must-have. It's long-lasting, and great for created winged looks. A great makeup look and lash health? Sign us up.
Best For No-Smudge
Scandaleyes Waterproof Gel Eyeliner
Cardi B's go-to makeup artist Erika LaPearl uses this drugstore liner on the rapper. Once it's applied, it absolutely will not budge, which makes it great for both on stage, and for long, sweaty nights out dancing.
Best For Winged Eyeliner
HyperEasy Liquid Pen No-Skip Eyeliner
If you want to create an easy winged cat-eye, this liquid liner will make it easy. You won't have to worry about it drying out after a single use, or skipping on your lid.
Best Colorful Eyeliner
Retractable Long-Lasting Mechanical Eyeliner Pencil
If you're over neutral eyeliner looks, this pencil comes in 13 beautiful shades to create any and all looks you desire. These liners won't smudge once applied, so you can be sure that your art won't move throughout the day.
Best For Beginners
Perfect Point Plus Self-Sharpening Eyeliner Pencil
If you're new to the eyeliner game, this is a great first product to try. It glides on, smudges, and you don't even need a sharpener to keep the lines straight.
Best For Glossy Looks
Infallible Lacquer Eyeliner
For a glossy, editorial-looking black eyeliner, this eyeliner pot is up for the task. It's incredibly pigmented and long-lasting. Because the pigment is so dark, it works on a wide variety of skin tones, too.
Best For Sharp Lines
Get In Line Liquid Eyeliner
The tip of this eyeliner is incredibly thin, which makes it a great option for super-sharp liner looks. You can also use it to apply very thin, natural lines at the base of the lash line to cheat thicker-looking lashes.
Best For Bold Colors
MegaLiner Liquid Eyeliner
This eyeliner is best for the bold. Whether you opt for black, or a royal blue, this is great for creating graphic eye moments that are easy to apply.
What type of eyeliner do you prefer for different looks?
"I prefer an eyeliner pencil because they are multi-purpose and can be used on lower and upper lash lines," says Moore. "With that, you can use an eyeliner pencil for a sharp or smokey eyeliner look, very versatile." For Tricome, eyeliner pencils can double as eyeshadow primers. "I will apply the eyeliner along the lash line and all over the eyelid. Then, I will grab a brush and blend it out and apply eye shadow over top." For winged looks, liquid is the way to go. "Liquid eyeliners are especially great for creating really thin, sharp lines," adds Tricome.
How can people make their eyeliner last longer?
Be patient! "If you are working with liquid and gel eyeliners make sure they are fully dry before curling your eyelashes, applying mascara, or any other eye products," says Tricome. "There is nothing worse than applying eyeliner and having your eyelash curling take it off or accidentally smudging it." You can also seek out eyeliners that are formulated to be long-wearing. "Purchasing waterproof eyeliner is key, these formulas are made to ensure your eyeliner stays on all day," says Moore. "You can also tap an eyeshadow that matches the color of the liner on top of the liner to 'set' the look in place."
This content is created and maintained by a third party, and imported onto this page to help users provide their email addresses. You may be able to find more information about this and similar content at piano.io
Advertisement – Continue Reading Below