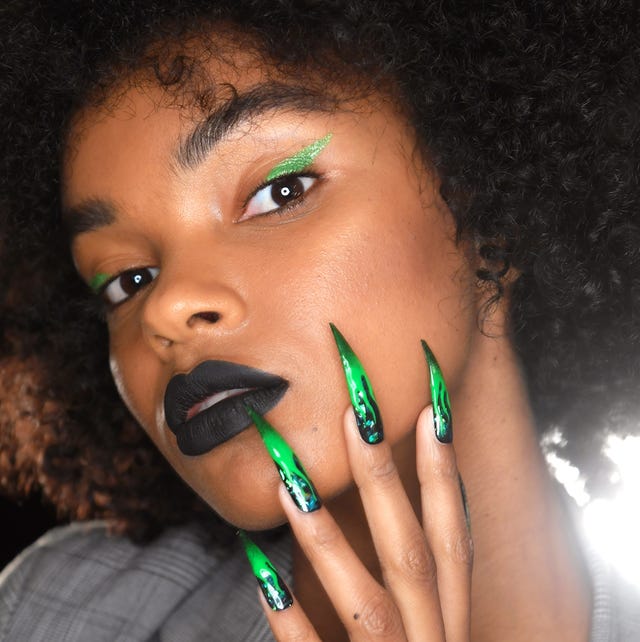 Jennifer GraylockGetty Images
Of all the pains one can experience, watching your nail extension or press-on fall off in front of you is near the top. Any nail expert or aficionado will tell you: The right nail glue can make or break your entire nail set. With the suitable adhesive, press-on nails or extensions can be applied quickly to get polished nails in a matter of minutes and last weeks on end. Nail glue is typically used to adhere acrylic nails or gel extensions to your natural nail, but celebrity manicurist Elle Gerstein uses nail glue for quick repairs. "It's already in a self-applicator and comes in a squeeze tube, brush-on, or dropper tube. Nail glues can be used to adhere tips to nails or used for nail wraps," she explains.
Although most kits include nail adhesive, several other options deliver better, longer-lasting results. Whether you prefer brush-on applicators or one-and-done squeeze tubes, scroll down for the 12 best nail glues on the market.
Advertisement – Continue Reading Below
Best for Quick Results
IBD Brush-On Glue
Makes press-ons last longer
Brush can get stuck after awhile
Celebrity manicurist Elle Gerstein says this glue is a staple in her collection because of its brush applicator and gel formula. Busy bees will love how quickly the glue dries down and how long your nails stay on.
Best for Strong Hold
Super Strong Nail Glue
Makes press-ons last longer
Regardless of your daily activities, Amazon reviewers agree that this best-seller is up for the challenge. "This nail glue is amazing! Super easy to apply, stronghold, and keeps its grip. I'm a mom to a three-year-old, so lots of cleaning & washing. This glue has not budged. I'm in love with it," one reviewer said.
Best for Precision
Press-On Brush On Glue
Olive and June's non-toxic and non-damaging nail glue has a precise brush-on applicator that allows you to have control over the amount of adhesive on the press-on nails and prevents the glue from spilling out the sides.
Best for All Nails
GlamneticBrush-On Nail Glue
Needs a few passes for stronger hold
When applying acrylic nails, a strong, long-lasting glue is needed to ensure the nail extension—and your natural nail—stays intact. Glamnetic is already a trusted brand for keeping your lashes in place, and its nail glue delivers on the same promise.
Best Kiss Nail Glue
Powerflex-Brush-on Glue
This tried-and-true nail glue is just as durable as its squeeze-tube counterpart but with more precision and less mess.
Best for Gel Extensions
Saviland Builder Nail Gel – 100g/3.5oz Large Capacity Clear Hard Gel for Nails, Nail Extension Gel for Nail Strengthen DIY Nail Art Manicure
While typically used for actual gel manicures, this Amazon best-seller works wonders for those looking to reinforce gel extensions or extend the longevity of press-on nails with just a few strokes.
Best for Easy Removal
Brush-On Nail Glue in None at Nordstrom
Can be difficult to work with
The Static Nails brush-on glue is tiny in size but mighty in power. A little goes a long way with this glue, which adheres to press-on nails with ease and does not damage the nails when it's time for removal.
Best or Quick Fixes
Nail Glue For Acrylic Nails
If you're nails pop off and you're looking for reliable glue to quickly fix any mishaps, Infilla's nail glue works great to correct mistakes and is strong enough to hold press-on nails on its own.
Best for Multiuse
Ultra Quick Nail Glue
No need to question Nailene's Nail Glue strength because it's just that good. As one reviewer put it, "This glue is scary strong. Like it can hold your old busted-up relationship together. Bumper falling off car? Just use the bottle and it'll be set for life."
Best for Nail Accessories
All Purpose Nail Glue
Great for nail stones and gems
Rest assured all of your nail gems and embellishments won't go anywhere once it's adhered to the nail with Big Bondini's nail glue. A staple for nail techs, this glue has an impeccable hold and a seamless removal process.
Best for Salon-Level Results
Extend Gel Gold Bottle Edition
This Apres nail adhesive, which comes in a stunning gold bottle, will add a touch of luxury to your press-on nails. The soak-off gel solution makes removal simple without the use of harmful nail drills or files.
Best Glue Kit
Gel Polish 2 in 1 Nail Glue
Why buy one nail glue when you can consistently keep your press-on game fresh with this two-pack Amazon best-seller. The Beetles nail glue doesn't weaken the nail and can be used on top of the press-on nail for reinforcement.
How do you apply nail glue?
Cleanliness is the single most important step to extending the lifespan of your nails. "You want to make sure the nail is clean, dry, and lint-free (just as though you were applying nail polish)," Gerstein advises. When applying your glue to the nail, "make sure there's enough pressure so it bonds correctly," she adds. "They do make glue dry sprays that can help cure it faster, but those don't help with longevity. The glue needs pressure on it; if you're applying a tip you need to hold it down for 10 seconds with enough pressure to make sure it bonds," she explains.
How do you remove nail glue?
Acetone is the best solution to use to remove your nails seamlessly and effectively.
This content is created and maintained by a third party, and imported onto this page to help users provide their email addresses. You may be able to find more information about this and similar content at piano.io
Advertisement – Continue Reading Below