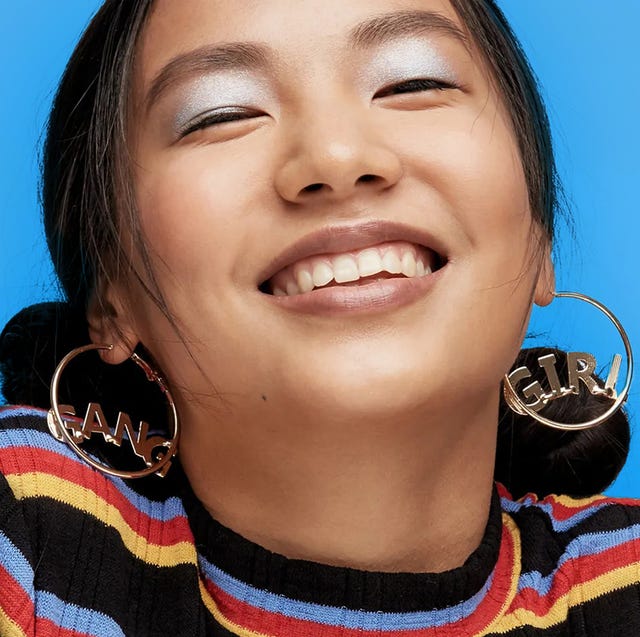 Stocksy
In this day and age of glitter eyeshadow and high-def, Instagram-worthy makeup, ensuring your eyeshadow game stays on point is crucial. And between sun exposure, sweat streaks, facial sunscreen, squinting, and itchy eyes (hello, allergy season!), colorful lids can dull down — or smear, crease, or flake — quicker than you can say Euphoria. Thankfully, there is literally a product invented to prevent all of the above, something that makes your shadow color pop and last longer than ever.
Enter eyeshadow primer. If you're at all familiar with face primer, eye primer follows a similar concept of prepping and providing the skin on your eyelids with a grippier base, so eye makeup, like shadow, concealer, and eyeliner, adheres better than it does on bare lids. Its job is twofold: One, to absorb excess oil on the lids that would otherwise make eye makeup crease, and two, to even out your eye skintone to further enhance color.
The Best Eyeshadow Primers
What to Consider
Eyeshadow primer formulations are pretty straightforward, with only a few points to keep in mind depending on your skin type and needs:
Longevity: Waterproof? Twenty-four-hour staying power? Many products claim they can keep eye makeup budge-proof for the entire day, with some also touting water-resistant wear. Primers use polymers to create a film-like surface on the lids that resists moisture, which can be drying when formulated incorrectly. Conduct a patch test before use to ensure your eye primer has an adequate amount of slip — not sticky, slimy, or shiny, but with a silicone-like feel — and also that it doesn't cause any allergies!
Color: Some eyeshadow primers come in a blendable, yellow-tinted color that helps neutralize any ashiness or darkness in the eye area. Others are fully transparent. If you're aiming to color-correct, a tinted primer is best; otherwise, clear options are virtually universal.
Add-Ons: To combat any drying effect in their formulations, many primers now include a handful of moisturizing ingredients like hyaluronic acid and vitamin E, as well as antioxidants for anti-aging. Primers that have these are often marketed as one-stop solutions, i.e., an eye cream and primer in one, and can be handy if you're looking for a product that multitasks.
More than just another extra step, eyeshadow primer prolongs the wear of your regular shadow and improves color payoff — resulting in a brighter, more pigmented, crease-free look. Have one in your arsenal, and you're on your way to a touch-up-free life.
Advertisement – Continue Reading Below
1
Best Overall
Eyeshadow Primer Potion in Original
Key Features
Longevity: 24 hours
Color: Tinted; comes in 3 other variants
Callouts: Paraben- and cruelty-free, vegan
You know how makeup products fall in and out of favor over time? Well, that never happens with this one — which is exactly why we deemed it our best overall pick. Since its release, it has spawned several other shade iterations, but scores still flock to the original Primer Potion, which sits comfortably on the lid and really, truly prevents any creasing for as long as you have your eye makeup on.
Powerful and effective, this yellow-tinted beige primer is weightless, too. It features space-age polymer technology that corrects any unevenness while also providing a nonslip base for your colors and creams. I have one in both the standard and travel versions and never attempt a smokey eye or any graphic liner without it.
2
Runner-Up
24 Hour Photo Finish Eyeshadow Primer
Key Features
Longevity: 24 hours
Color: Tinted
Callouts: SLS- and SLES-, phthalate-, paraben- and cruelty-free, vegan
Fans of Smashbox's original Photo Finish Foundation Primer rejoiced when the brand released the version for eyes, which contained a similar oil-free yet budge-proof wear in a light, tinted variation. What sets Smashbox apart from other primers is its matte drydown, which somehow manages to lock in shadow and boost pigment — especially on oilier lids.
Reviews say that this "amazing" primer is "everything:" "I started using it a few years ago and won't even try anything else. I have an oily lid and developing fine lines, and this is the only product that hangs onto my eyeliner and/or eyeshadow."
3
Best Budget
HD Eyeshadow Base Concentrated Eye Primer
Key Features
Color: Tinted beige
Callouts: PETA-acknowledged as cruelty-free
This eyeshadow base with a doe-foot applicator offers sheer coverage and makes any eye look that much more intense and vibrant. Apply a bit of product from this NYX Cosmetics tube to make your eyeshadows really pop. The price point is nearly unbeatable, too.
Reviewers say this studio-grade eyeshadow primer is the real deal. "[The] quality is great! A little product goes a long way," and that it "makes shadows really pop and last all day with no creasing."
4
Highly Rated on Amazon
Thank Me Later Eye Shadow Primer
Key Features
Longevity: 24 hours
Color: Tinted
Callouts: Paraben- and cruelty-free, Leaping Bunny-certified
You can thank us later for this one. Elizabeth Mott Thank Me Later Eyeshadow Primer has reached cult status on Amazon — it's literally the site's number-one best-selling eyeshadow primer — and we totally get it. Its creamy yet non-greasy consistency offers up a brightened base that locks shadow in all day, even if your skin is oily.
It contains pearl powders that help brighten up the eye area and keep color water-, sweat-, and crease-resistant. We love that despite its super affordable price, it comes in an easy-dispense tube. And as with most primers, you only need a pea-sized amount, giving this loads of bang for your buck.
Reviews say that this is a "life-changer," with one calling out how this primer leaves her makeup intact even after her shift waitressing all day outdoors in humid weather.
5
Best Splurge
Veil Eye Primer
Key Features
Longevity: 24 hours
Color: Tinted
Callouts: Vegan, SLS- and SLES-, paraben-, phthalate-, mineral oil-, gluten-, and cruelty-free; Vitamins E and C
This premium eyeshadow primer has legions of followers despite being a late addition to the game. Lightweight and crease-proof, fans consider this a holy grail due to its ability to smooth out even the most crepey lids and impart a smooth, bright makeup finish.
"I've been using this eyeshadow primer since it launched in 2020," says our beauty editor, Nicole Saunders. "Unlike other options on the market, it has a nice tint that blends into my skin with ease. It creates a natural-looking canvas that allows me to skip shadow and use this primer as the base of my eye look. In addition, it contains a blend of moisturizing vitamin E and brightening vitamin C that leaves behind a luminous finish to my eyes."
6
Best for Monolids
Pro-Prime Smudge Proof Eyeshadow Base
Key Features
Longevity: 24 hours
Color: Tinted; 3 shades
Callouts: Deep-sea extract, antioxidant rice extract, ophthalmologist- and dermatologist-tested
It's part of an eyeshadow primer's job to mattify and prolong the wear of makeup on most lids, but NARS Pro-Prime takes things a step further with the addition of its mineral powder blend.
Monolids or those with hooded eyes, in particular, love how this premium pick blows all other drugstore copycats out of the water when it comes to keeping their shadow and liner intact.
"I have hooded eyes, and my shadow and liner usually crease after an hour of wear — but with this primer, my eye makeup lasts all night. I was previously using a drugstore primer, and the difference has been night and day," enthuses one such user.
7
Most Lightweight
Hydro Grip Eye Primer
Key Features
Longevity: 24 hours
Color: Clear
Callouts: 93% natural, vegan, gluten- and cruelty-free; blue agave extract, hyaluronic acid, hemp-derived cannabis seed extract, niacinamide
The slew of beneficial ingredients in this eyeshadow primer can render it a high performer on any skincare or eye cream list. As a primer, however, they work synergistically to both hydrate and lock in makeup for a one-two punch against creasing and fine lines.
The biggest draw of this amazing primer is how it slides on completely smooth and transparent and how it works great as an undereye primer, too, preventing concealer and lower liner from smudging.
My eyes tear up due to seasonal allergies, and this keeps me from getting raccoon eyes each and every time. Users agree, saying, "[I] seriously love this stuff. I have very creasy undereyes, and using this after eye cream and before my concealer makes a big difference."
8
Longest-Lasting
Shadow Insurance 24-Hour Eyeshadow Primer
Key Features
Longevity: 24 hours
Color: Translucent
Callouts: Waterproof, vegan, paraben-, gluten-, and cruelty-free
Shopping for a waterproof, beach-friendly primer? The buck stops here. Too Faced's Shadow Insurance is well-known in beauty circles as one of the most fade-resistant eyeshadow primers available due to a bunch of grease-fighting ingredients that not only waterproof your lids but also prevent blue light damage and pollution.
It fights breakthrough oil and grease on the eye area, and this new and improved version keeps things from getting too dry with the addition of oils and peptides.
"I was a bit concerned when Too Faced switched up the formula and packaging of its famous eye primer," says our beauty editor, Nicole Saunders. "Thankfully, after testing the updated version, I found the product plays great with all eyeshadow formulas and finishes and helps extend their overall wearability. My biggest tip: Don't forget to apply a bit of eye cream on your lid and let it soak in before using this primer. I forgot to do that once and found the primer to be a bit drying without a well-moisturized base."
9
Best for Dry Lids
Weightless Eyeshadow Primer
Key Features
Longevity: 24 hours
Color: Tinted
Callouts: Vegan, paraben-, formaldehyde-, phthalate-, mineral oil-, retinyl palmitate-, and cruelty-free
Straddling the line between a moisturizing and long-lasting formula is a slippery slope, but Rare Beauty's Weightless Eyeshadow Primer seems to manage with ease. This no-nasty offering from Selena Gomez's beauty line glides on smooth and creamy yet isn't sticky or feels heavy — and those with drier lids prone to flaking will appreciate how it helps even out skin's condition and tone with a few dabs.
Fans love how this "smooth, natural, easy to apply" primer gives a natural look. "I just need a little bit, and it goes a long way," they say, adding, "It really helps blend out any imperfections or veins on the eyelid."
10
Best Studio-Worthy
Prep + Prime 24-Hour Extend Eye Base
Key Features
Longevity: 24 hours
Color: Tinted
Callouts: Ophthalmologist- and dermatologist-tested; Vitamin E
Remember MAC? This Gen-X fave makeup brand, although relatively quiet in recent years, still makes many a roundup due to its high-performing products that have earned their spots at the most rigorous of backstage events time and time again.
Prep + Prime Eye has been around for a hot minute, and its formulation is a classic that's withstood the test of time. Thicker and balmier than others (but doesn't feel greasy or sticky), it has the benefit of smoothing out dry, mature skin in the eye area, paving the way for better color application and payoff. And yes, it lasts all day, without any frills.
Just in case you were on the fence about sticking with this beauty veteran, let this reviewer help convince you: "I didn't realize what else I was missing until I tried this primer, because nothing works as well as this. It works GREAT on my crepey eyelids and keeps my shadows looking fresh all day — it truly helps make my eyelids look smooth and younger."
This content is created and maintained by a third party, and imported onto this page to help users provide their email addresses. You may be able to find more information about this and similar content at piano.io
Advertisement – Continue Reading Below