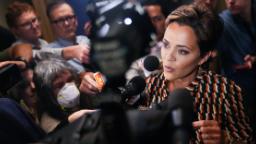 The Arizona governor's certification of presidential results "traditionally has been, and should be, uneventful,"
Joshua Sellers
, an expert on election law and an Arizona State University associate professor of law, said in an email on Friday — a necessary but "perfunctory" act confirming the result of the state's popular vote. Sellers said "it would be deeply disruptive for a Governor to impede certification based solely on her own views or disappointment about a presidential election result."
Arizona Secretary of State Katie Hobbs, the state's top elections official, is the overwhelming favorite in the Democratic gubernatorial primary. Arizona has elected a Republican governor in three straight elections dating back to 2010. Biden's
2020 victory in the state
was the first for a Democratic presidential candidate since 1996.
A barrage of false election claims from Lake
In other words, one leading candidate for a major office is bashing another leading candidate for declining to join her in championing a lie.
Lake's campaign declined to make a substantive comment for this article. When asked for supporting information about Lake's false claim that ballots were counted up to four times, an adviser replied only by mocking CNN.
Robson wouldn't say whether she would have certified the 2020 election
Hobbs campaign manager Nicole DeMont criticized both Lake and Robson for spending time complaining about the 2020 election even though "Arizonans are tired of being made fun of on late-night TV."
"The Trump-endorsed frontrunner Kari Lake has been the biggest proponent of the Big Lie from day one, but now Karrin Taylor Robson is also peddling those conspiracy theories in an effort to catch up in the polls," DeMont said in an email. She said Hobbs is committed to fighting for policies "Arizonans actually care about" on issues like schools, water and affordability.