Today Sallie Boge is sharing a unique garden space:
The St. Mary Church Garden Ministry in Riverside, Illinois, grows a vegetable/herb/fruit garden for charity food pantries. Our garden is consistently the number-one seasonlong producer for Share the Harvest, which organizes home gardeners to supply fresh, homegrown food to food pantries in the Chicago area.
To have a successful harvest, we need a detailed plan, which I start in January, when it is too cold to garden outdoors in our Chicago-area suburb.
We started our garden on the first day of spring 2009—when it snowed! From modest beginnings, we have expanded over the years to include three 4×4 raised beds, nine 4×8 raised beds, six cedar tuteurs (for pole beans), four powder-coated steel arbors (for wine grapes), and in-ground beds around the perimeter of the garden for a mixture of vegetables, fruit bushes, and perennial flowers to attract beneficial pollinators. We engineered a hybrid underground/aboveground drip hose system to be able to water six raised beds at a time. We grow more crops on another part of our church's campus. I also have a small but dedicated group of home growers who bring their garden's extra veggies to share every Monday morning when we harvest.
The cedar raised beds are made from a kit from Rhino Garden Supply. There are no nails needed, so even I, with no carpentry skills, could assemble the raised bed frames by myself.
We asked for some help constructing our bean tuteurs. Our local Girl Scout troop came through for us. This qualified them for a Silver Award. Thank you, Girl Scouts!
In our pollinator perimeter garden beds, we grow, among other things, Phlox paniculata (Zones 4–8), Shasta daisy (Leucanthemum × superbum 'Becky', Zones 5–9), Monarda, Iris siberica ('Caesar's Brother', Zones 4–9), Brunnera macrophylla (Zones 3–8), Joe Pye weed (Eupatorium dubium 'Little Joe', Zones 5–8), peonies (Paeonia hybrid, Zones 3–8), daylilies (Hemerocallis 'Stella d' Oro', Zones 3–10), sedum (Hylotelephium 'Autumn Joy', Zones 3–9), German bearded iris (Iris hybrid, bearded group, Zones 4–8), common milkweed (Asclepias syriaca, Zones 3–9), and fall-blooming anemone (Anemone hupehensis, Zones 4–8).
We plant an edging of purple chives around some of our raised beds. We hope the smell confuses some of the bugs who otherwise like to munch our crops. Plus, we think they are pretty.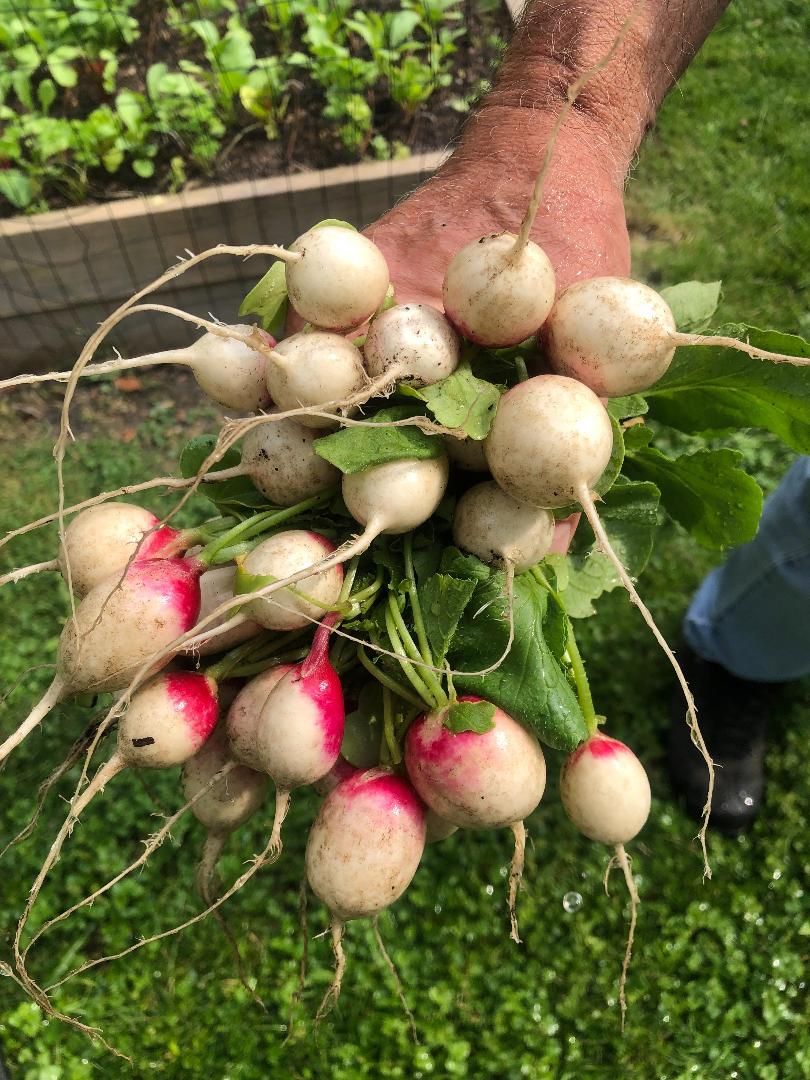 Radishes are just one of the crops we grow. We also have success with tomatoes, jalapeño peppers, mesclun mix lettuce, French sorrel, garlic chives, Swiss chard, salad burnet, kale, pole beans, snow peas, beets, basil, rosemary, oregano, cucumber, sage, thyme, bay leaf tree, curly parsley, peppermint, rhubarb, red currant, gooseberry, carrot ('Yaya'), apples, and more.
One of our harvests included 845 pole beans, 205 tomatoes, 18 cucumbers, and more. (Yes, we counted!). Here is the director of one of the food pantries our garden supplies with our harvest, packaged and ready to be distributed to the people who depend on this food pantry for nutritious, fresh, locally grown food.
Thanks for "visiting" our garden. I hope you have such a successful 2022 harvest in your garden so that you can share some of the extra fruit, vegetables, and herbs with your local food pantries too.
Have a garden you'd like to share?
Have photos to share? We'd love to see your garden, a particular collection of plants you love, or a wonderful garden you had the chance to visit!
To submit, send 5-10 photos to [email protected] along with some information about the plants in the pictures and where you took the photos. We'd love to hear where you are located, how long you've been gardening, successes you are proud of, failures you learned from, hopes for the future, favorite plants, or funny stories from your garden.
Have a mobile phone? Tag your photos on Facebook, Instagram or Twitter with #FineGardening!
Do you receive the GPOD by email yet? Sign up here.