Apple's iPhones have the reputation as having great cameras. For large parts of their history they have been up there with the best, in fact. That started with the iPhone 4 in 2010 (cameras on the original, 3G and 3GS felt more like an afterthought). We've already covered this in a Flashback, so we won't go back quite that far today. Instead, we will look at the last 10 generations of iPhone starting in 2012 with the iPhone 5.
If you skim the charts below you will see there isn't much progress on the resolution front. The iPhone 4 had a 5MP camera, the 4s went up to 8MP, which stuck around for a bit and it has been 12MP since. This includes the telephoto and ultrawide cameras, which started to appear later on. These days even the front-facing camera is 12MP.
Of course, there are rumors that this is the year when Apple will finally adopt the high resolution sensors that have taken over most Android cameras – 48MP for the Pro models, allegedly, while the vanilla phones will probably stick to 12MP yet again. The 14-series may also bring autofocus for the selfie cam (all front cameras on iPhones so far have had fixed focus).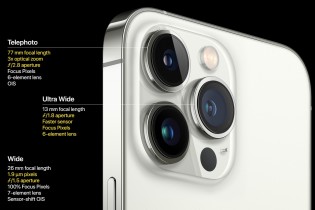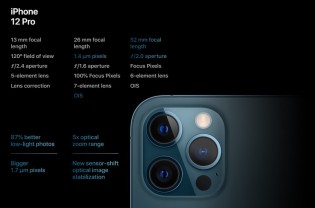 The Plus or Pro iPhones typically get the better camera hardware (the Pro Max especially)
Going back to the resolution for a moment, Apple A-series chipsets are super powerful, yet no iPhone so far has offered 8K video resolution. This is a limitation of the sensors, 12MP isn't nearly enough pixels for that.
As for the division between the baseline model and the Plus/Pro models, that stated immediately. The iPhone 6 series was the first generation to split into vanilla and Plus models and the Plus had Optical Image Stabilization (OIS), while the vanilla did not. That remained the case for the 6s/6s Plus generation too.
Such features take a year or two after introduction to reach the base phones. The iPhone 7 was the first to have OIS, for example. In 2020 Apple introduced sensor shift stabilization, which was exclusive to the iPhone 12 Pro Max. This tech was later adopted by all iPhone 13 models. Note that the Pros have bigger sensors and brighter apertures, however.
With that in mind, it's not strange that the rumored 48MP sensor will be exclusive to the Pro duo. In fact, this is the norm for Apple. The vanilla models have never offered a telephoto camera and that might not change this year either.