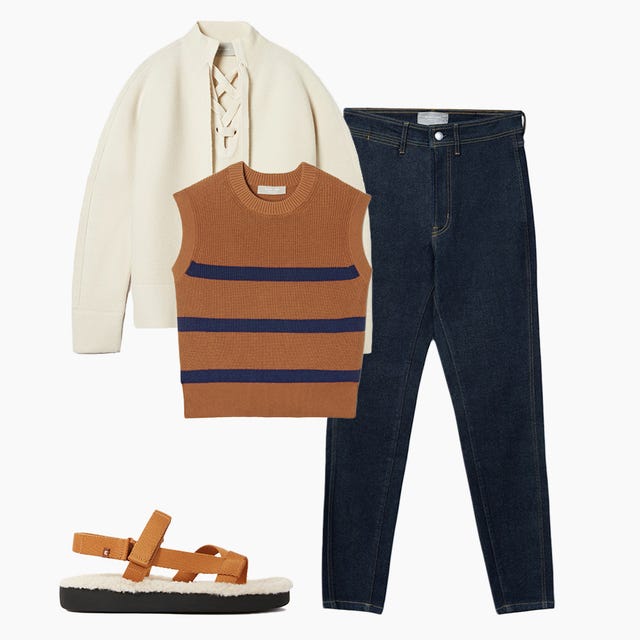 No matter whether your style leans bold or minimalistic, any seasoned shopper knows it's essential to own at least a few quality basics that are both versatile and timeless. Everlane is an undisputed master at them, and, thankfully, its sustainable, ethically-made, and affordable pieces will be on markdown this Black Friday (you know, in case you're in the mood to save extra).
From Tuesday, November 22 through November 28 (Cyber Monday), Everlane will be offering 50 percent off select items from its Perform and Track collections, plus half off bestselling sweaters, teddy fleeces, ReNew outerwear, and denim. And in keeping with tradition, Everlane's latest Black Friday sale will also benefit charity. For every order, Everlane will donate $1 to TreePeople, a Southern California-based organization that for more than 40 years has worked to protect the local environment through education, research, and organized volunteer efforts focused on reforestation, rainwater harvesting, and more.
While you wait for all the Black Friday goodness to arrive, go ahead and shop these 12 stellar finds currently hiding in Everlane's sale section. Also, bookmark this page, as we'll be updating it when the official deals drop.
Advertisement – Continue Reading Below
Everlane
The Track Organic Cotton Hoodie
Everlane
The Lace-Up Smock Sweater
Everlane
The Rib Knit Pant
Everlane
The Perform 24/7® Legging
Everlane
The Cotton Summer Sweater Tank
Everlane
The Cotton-Merino Front-Tie Top
Everlane
The Way-High Clean Front Skinny Jean
Everlane
The '90's Midi Dress
Everlane
The Canvas Teardrop Tote
Everlane
The Oversized Silky Cotton Shirt
Everlane
The Pom-Pom Sock
Everlane
The ReNew Teddy Sport Sandal
Advertisement – Continue Reading Below