Daniil Medvedev has revealed he struggled to see the ball during the second half of his win over Andrey Rublev in the US Open quarter-finals.
Medvedev emerged victorious 6-4 6-3 6-4 in "brutal" conditions to book a place in the semi-finals with temperatures at around 33 degrees throughout the match, plus high humidity which tested both players physically.
The roof on Arthur Ashe Stadium was half-closed but Medvedev needed the trainer twice and required the use of an inhaler to get through the match. During the third set, Medvedev walked to an on-court camera and stated "you cannot imagine…one player is going to die".
Daniil Medvedev called the conditions on Arthur Ashe Stadium as 'brutal' as he progressed into the semi-final of the US Open.

"It was brutal. The only good thing I see in these conditions is both suffer, so it's tough for both of us," said Medvedev.
"There were some ups and downs but that's so normal. At the end of the first set, I kind of couldn't see the ball anymore! I played with sensations and tried to go for it, tried to run and tried to catch the balls. He did the same sometimes.
"Before the point I was like 'wow he can't run anymore' and I just tried hit it back and I was like 'when is he going to be tired?' But we were tired all the time. Brutal conditions and super tough to win."
Rublev was a break up in each of the three sets but Medvedev dug deep to turn things around.
The 2021 US Open champion is good friends with Rublev, who is godfather to Medvedev's daughter.
"I know he never gives up but he knows I never give up] too! A few moments in the third set, I think he was up a break two or three times and I was thinking 'at least there is this 10-minute break'. I couldn't wait to go for a cold shower," continued Medvedev.
"The thing about the cold shower, from what I heard, when you come out, you either cannot move or you feel better. I was like 'I don't care I will go for a cold shower and will see what happens'. I will go now!"
Check out the top five points from Daniil Medvedev's win over Andrey Rublev at the US Open.

Medvedev: I have no skin left on my nose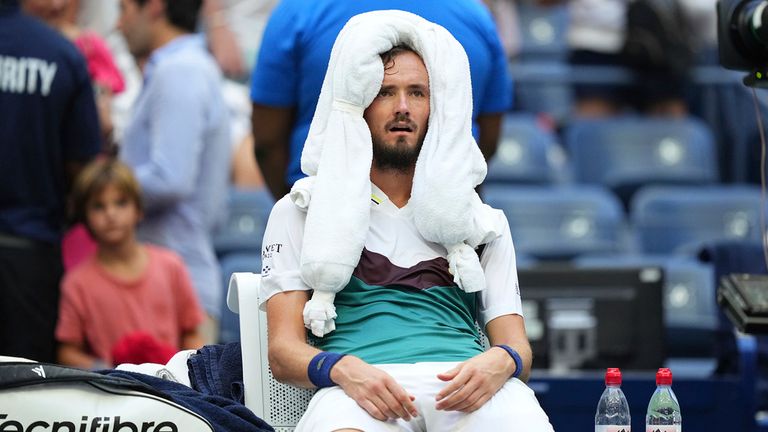 I was sitting there like this sweating like hell even with the AC on, and they [my team] brought some food and then I felt better. Yeah, that's how it is sometimes.
The 2021 champion later recalled an incident earlier this summer when Chinese player Wu Yibing collapsed during a match in Washington.
He said: "I could talk a lot, brutal conditions for both of us.
"I mean, I don't know if it could be seen through the camera, because we are sweating so much and use a lot of towels.
"I have no skin left on my nose here, and, like, here it's red, but it's not because of the sun so it's not like you're burned but I have no skin left."
He continued: "I just saw Andrey in the locker room and his face is very red, and it's also not because of the sun so I guess it's the same. That tells everything, like we left everything out there.
"The thing is that even if it would go further, I think we would still leave even more. Then I don't think I had anything left but if the match would go on, I would find something more.
"And the only thing that is a little bit, let's call it dangerous, is the question how far could we go? Maybe we could go five sets and it would be… when I say 'fine', yeah, we would struggle a little bit next day and it would be fine, or we have a person in Wu who fell down."
Highlights of Medvedev against Rublev in the quarter-finals

Medvedev felt shaky as he tried to recover from the match, saying: "I'm feeling kind of okay now. I'm just pretty exhausted. Let's say, yeah, do couple of interviews here and there straightaway, and it was tough.
"I was with an ice towel there. Everything was foggy, like I couldn't see clearly. Because the match is over, so the adrenaline is not there anymore.
"So I was, like, a little bit shaky. Then I come to the locker room and that's the toughest part because you kind of want to just sit there for hours. But you know that if you do it, it's not a good recovery."
He continued: "So I sat there for, like, 10, 15 minutes, went and did a quick ice bath. Changed. Went to eat. But had, I don't know how you call it in English, when sugar blood, sugar levels go up. I started sweating, my head started turning.
"I said to my team please bring me any food. I was sitting there like this sweating like hell even with the AC on, and they brought some food and then I felt better. Yeah, that's how it is sometimes."
Henman: It was almost like they were playing on instinct
Tim Henman called the conditions on Arthur Ashe as 'brutal' after Daniil Medvedev beat Andrey Rublev.

Sky Sports pundits Tim Henman and Martina Navratilova said they were watching the match in the shade and not moving, but were still sweating, so felt for both players.
"To watch that match with Rublev and Medvedev was brutal. You could see they were fighting so hard and they had so little energy left in the tank, it was almost if they were playing on instinct," said Henman.
Martina Navratilova added: "I was cooking in the shade and was like these guys are putting it out there. The only thing you can think of is how you can stay cool. It's really hard to have that tennis brain going.
"The heat that comes off the hard court is much hotter than clay or grass, even when it's the same weather. This was coming up from the sun and the reflection from the surface as well, then your feet get hot. Then you are overheating from your head to feet. It's rough."
The US Open on Sky Sports
Roger Federer has showcased his superb through-the-leg 'tweener' shots on multiple occasions at the US Open

Sky welcomes tennis back to its channels, adding to the existing sports portfolio and reaffirming the broadcaster as the home of live sport in the UK & Ireland.
Sky Sports' new mixed reality studio features multiple custom built LED screens, integrated light 'sabres', and an open canopy roof, making the space alive with colour and energy to reflect the vibrancy of the last Grand Slam of the year.
With integrated AR capabilities, a versatile LED floor, and a 'fourth wall', the viewer will be transported to the Arthur Ashe Stadium in a 360-degree immersive environment. Our tennis experts will take the viewer into the eyes of the players for expert Hawkeye analysis and insight as the tournament progresses.
Rafael Nadal hit an incredible shot around net against Marin Cilic in 2019, much to Tiger Woods' delight

The technology involved allows us to add an entire new dimension and will bring customers closer to the action.
Highlights of matches will be available across Sky Sports TV and our social media platforms.
Video highlights will also be available of the Sky Sports website and app, where there will also be a daily live text commentary on the Sky Sports website and app, as well as live scores, reports, analysis and features.